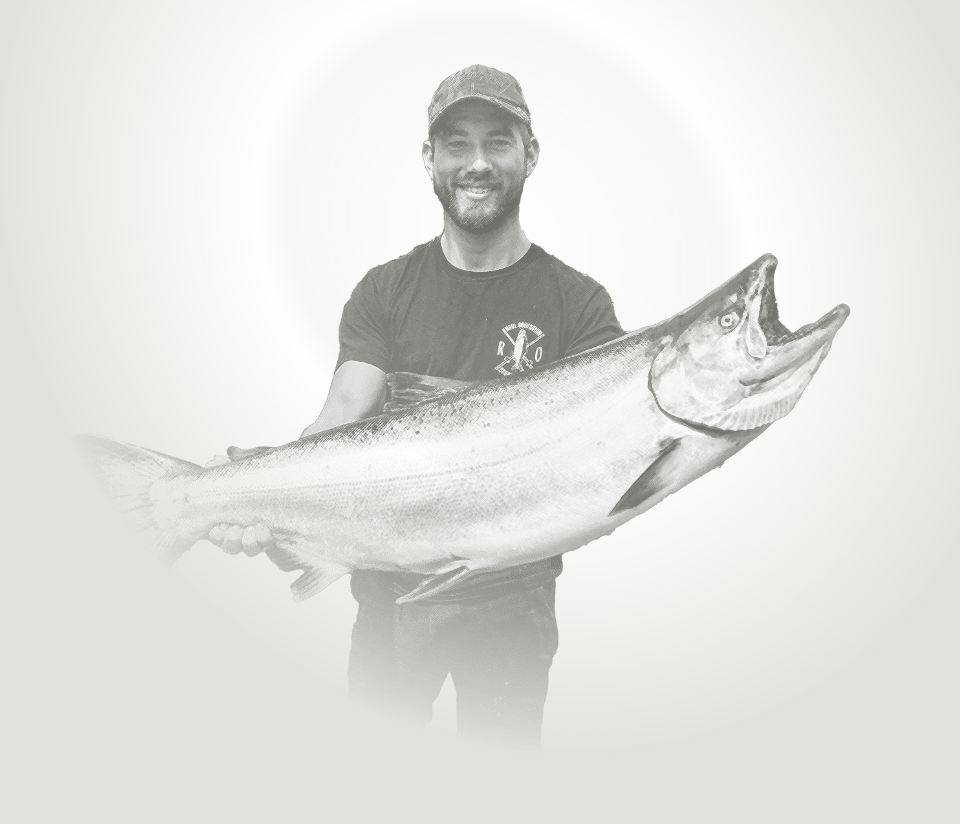 Salmon Fishing On Vancouver Island, British Columbia

Incredible salmon fishing all season long is only part of the reason we have a world class fishing destination. Unlike many lodges, at Reel Obsession, our unique location means we are not reliant on one particular run to produce great fishing for a few weeks each season. We have huge runs of salmon passing by all the time. This is why they call our area "The Salmon Highway". We have access to amazing fishing all year long, but at our west coast lodge, we focus on the peak fishing times throughout May to September with a focus on salmon, halibut and tuna.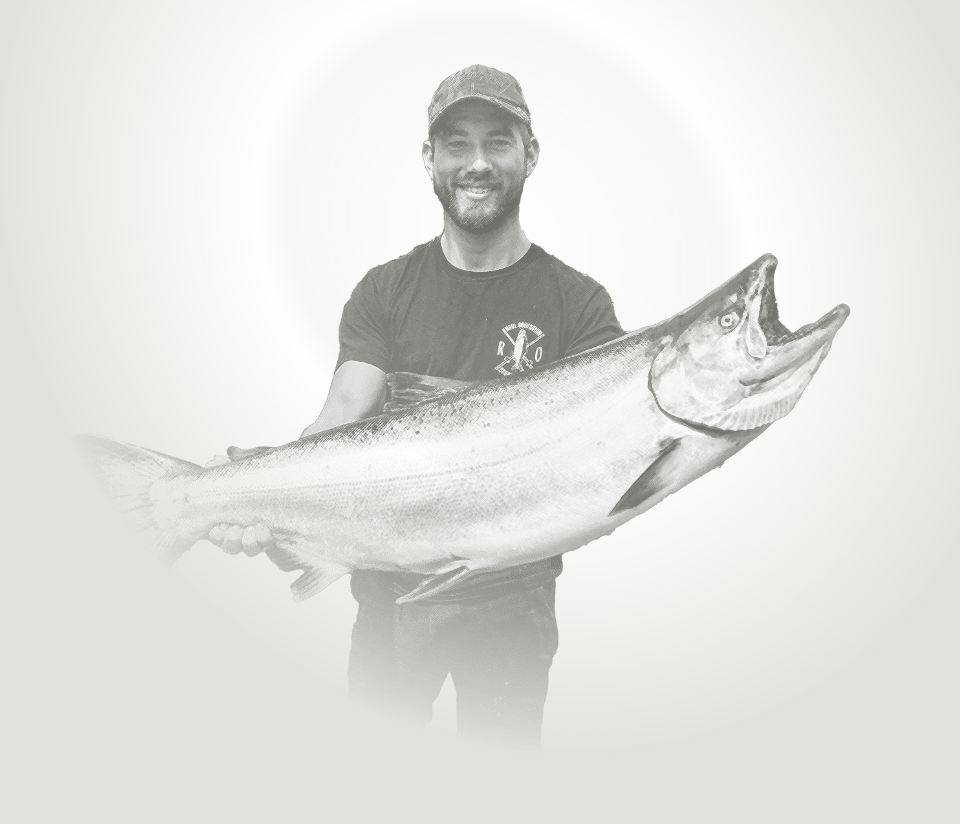 The Mighty Chinook Salmon
BC Chinook salmon, also called Kings and Springs, are the largest of the pacific salmon, very powerful, and really get your adrenaline pumping when on the end of the line.
In the early season, migrating American stocks come by our area in vast numbers producing great fishing in the 15-30 pound range. We typically target these fish fairly close to shore in 50-150 feet of water. From early June through to early September we have consistent salmon fishing along the rock piles and beaches that make up this beautiful coastline. It is very exciting trolling next to a kelp bed with your line down only 25 feet and hearing the scream of the reel when a large salmon hits. Imagine grabbing the rod making sure to keep your hands free of the single action reel that is now spinning at a rate that would burn rubber! That's the kind of exciting, unfailing action you'll consistently find.
Another special reason our west coast fishing lodge is located in Esperanza Inlet and Nootka Sound  is due to the offshore Salmon fishery we have available. Just a few miles North West of Esperanza the continental shelf comes in closer to Vancouver Island than it does anywhere else. What this does is funnel the South migrating Salmon into a tight corridor closer to shore than most other offshore salmon fisheries along Vancouver Island's coast. This area known as "The Salmon Highway" can hold Salmon all year long. May through September is indeed prime time with mature Salmon passing through on the way to their native river systems.
Coho salmon, also called silvers are known for their acrobatics and aggressive nature. When the Coho are thick it creates an exciting fishery where fish can be taken right on the surface and on light tackle. We typically have good Coho fishing from mid July through the end of September.
Pink salmon are much more common in odd years, 2019, 2021. These fish are very underrated for the eating qualities. They are not the feistiest of salmon, but when bleed out on the boat and iced right away, they are excellent table fare and are great for smoking.
Halibut Fishing
Huge halibut caught with Reel Obsession lodge fishing. Everyone enjoys eating the delicate white meat from one of the most sought after fish on the B.C. and Alaska coast. Halibut fishing has become very popular in the last 15 years. At $25 per pound who would not want to take home some of this prized meat? When anchoring up for Halibut we look for some form of structure. We are not looking for major contour changes, but more of a subtler form. Most of the time, small rock piles produce the bigger Halibut. Gravel bars and sand bars are usually the "chicken ranches" as we say. These are the smaller tastier Halibut weighing less than 30lbs. We have an incredible resource in the area we fish. Although we do see numerous fish over 100 pounds in a season, there has been a size limit placed on halibut throughout west coast waters with regulations requiring any halibut over 133 cm or about 75 pounds to be released. Halibut fishing around Vancouver Island's west coast can be done anytime the weather permits. Unlike parts of Alaska and the southern part of Vancouver Island we do not have the strong currents that can limit the days and times you are able to fish Halibut. Our logbooks show that over 90% of our clients go home with their limits of halibut.
Albacore Tuna Fishing
Tuna fishing is nothing new to Vancouver Island's west coast. Commercial fishermen have been catching albacore tuna for years along our coastline. However, it is fairly new to the sport fishing sector on the Island and we are excited to offer this thrilling fishing experience. We fish 5 to 7 lines off each boat where double, triple, and even quadruple headers are not uncommon. Tuna are a schooling fish and once they are located, the action can be intense. Our tuna fishery takes place between 20-40 miles offshore. Water temperature and warm currents are what bring these fish within our reach. Every year is different, but historically from the 3rd week of August until the 3rd week of September is when these fish are found off the Esperanza canyon.
Lingcod & bottom fish
Lingcod are not actually a true cod and not related to pacific cod. They are actually the largest member of the greenling family. Although they will not win a beauty contest they have won many hearts over on the dinner plate. A very delicate white meat that is hard to beat. They typically live in or around rock piles and are ambush predators. Ling cod are targeted by jigging typically, but are caught while trolling the bottom as well. A wide variety of rock fish are caught while targeting ling cod and trolling for salmon as well. Vermillion, Canary cod, rock cod, black bass and copper rockfish make up the majority of the ones we catch. These fish all make great table fair and can be a lot of fun to catch on light tackle.